Course Outline
Six assignments
Final examination
Course Description
The core focus of History 102 is world history from 1500 to the end of World War I. It uses recently developed scholarship from journals and texts devoted to global history in order to trace demographic, ecological, economic, and intellectual links between the continents and Oceania. It introduces these themes by briefly assessing the world before 1500, and then tracing them through the centuries, culminating in the First World War. A brief segment at the end of the course looks at major themes of 20th century world history as well. Special attention is given to epochal shifts in the human condition that led from pre-history to antiquity, the classical age, medieval age, the early modern age, the age of revolutions (economic and political), and the birth of modernity in the early 20th century.
Student Profile
Sophie Lee, student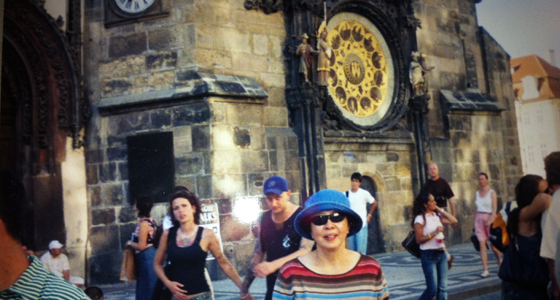 While traveling through Eastern Europe, Sophie found that she was able to use her extensive knowledge of the past (gained from HIST 102) to "fully understand the present."
Intended Audience
History 102 is acceptable as a prerequisite for majors in History or International Relations and could serve as well as an elective for first year or second year students at UBC. It should as well be considered by students preparing for the Social Studies concentration in Education. High school faculty teaching world history and comparative civilizations as well as students in post-secondary institutions requiring transferable courses should find the course of interest.
It is also directed at individuals with either a general historical curiosity or interest in a particular phenomenon (e.g. human migrations, political and economic systems, or ideology and belief systems) that influenced more than one region of the globe.
Course Objectives
Upon completion of History 102 you will:
be able to identify the major historical epochs of human development;
have increased your skills of reading, writing and critical analysis of primary and secondary sources;
be able to recognize that history, the written record, is subject to uses and abuses, and to different interpretations that arise with each new generation of historical scholarship;
develop your intellectual curiosity with a basic knowledge about fundamental elements of the human experience, some of which you might select for further study;
be able to trace the historical forces which have shaped your identity not only as regards your particular class, gender, or ethnicity, but as a citizen of the planet living in an increasingly interdependent world; and
appreciate that we all share a common experience as migrants or the descendants of migrants.
Course Overview
The course is separated into four sections divided chronologically, but with each containing clearly identified themes which, once introduced, are revisited several times as we proceed. Section One introduces the world before 1500 and carries the narrative to first encounters between Western and indigenous peoples. Section Two covers the 16th to the 18th century, Section Three covers 1760 to the latter 1800s, and Section Four covers the late 19th and early 20th centuries. They stress common experiences and linkages among the core civilizations of Eurasia, and consider, as well, civilizations which evolved in the Americas and Asia. The influence of certain rivers, oceans, and seas around and over which these developments occurred are highlighted.
Each Section contains 7 to 10 Lessons. The lessons are self contained, with their own theme and thesis argument. Each ends with a question or two. They are also linked with others with which they share commonalities.
Course Work
History 102 contains the following graded and non-graded course work:
Graded:
class participation in an online discussion forum
three short primary source analysis assignments
a team debate on a historical theme
one comparative book analysis assignment
a final examination
Non-graded:
Self-Assessment exercises
Evaluation
A full description of each assignment that you are expected to complete, the marks distribution, and submission policies, is available in the Assignments section of the course web site.
The marks distribution for History 102 is as follows:
| | |
| --- | --- |
| Assignment | Marks |
| Discussion Forum | 10 |
| Old World Travels: Ibn Battuta | 10 |
| New World Encounters | 10 |
| Smith/Marx Analysis | 10 |
| Online Debate Forum | 10 |
| Comparative Book Analysis | 30 |
| Final Examination | 20 |
| Total: | 100 |
Textbooks
Bentley and Ziegler. Traditions and Encounters: A Global Perspective on the Past. 5th Edition with connect plus. McGraw Hill, 2011. ISBN: 9780077486631.