Course Description and Prerequisites
Student Profile
Shelley Fearnley, 4th year Bachelor of Arts Visual Arts Major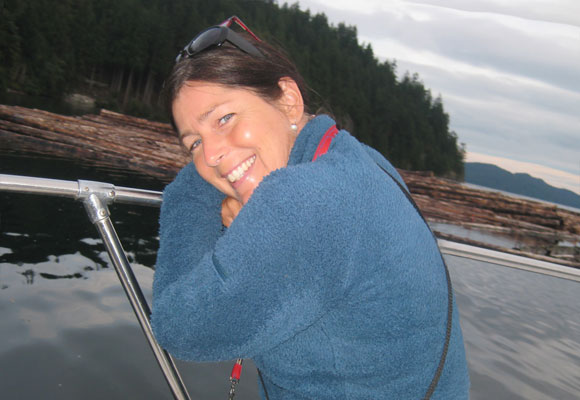 With PSYC 307, Shelley gained invaluable insight into the "human differences and similarities across cultures from a scientific psychological perspective."
This course investigates the way that cultural experiences shape our psychology, cultural influences on human thought and behaviour; interactions of culture and self; multicultural experiences; intercultural relations; methodological issues.
Prerequisites
Either (a) PSYC 100 or (b) all of PSYC 101, PSYC 102.
Intended Audience
Psychology 307 is a course specifically designed for both students that are not psychology majors and those who are psychology majors in the Bachelor of Arts program. The course, while intellectually challenging, emphasizes fundamentals rather than details. Although the course is designed for students that have a limited knowledge of psychology, a background of experimental psychology and the biological sciences are a definite asset.
Course Overview
This course investigates the way that cultural experiences shape our psychology. One important point to note is that we all are, to a certain extent, products of our cultural environments. This is a point worth emphasizing as it is often quite difficult to see our own cultural influences – culture is something we only tend to notice when it's foreign or exotic. The assignments and asynchronous chats are designed, in part, to help you to realize your own cultural influences.
There are a total of five modules in the course, each of which covers material in 2-3 chapters of the textbook, an additional reading, and a video (for the first two modules only).
The modules focus on the following material:
Module 1 explores a number of interrelated questions from the first three chapters of the textbook. The first chapter focuses on the question of how psychology needs to consider culture to be a study of human nature. The second chapter explores how humans became a cultural species. The third chapter is concerned with where our cultures come from – we will discuss how our geographical environments influence cultural patterns, and how cultures change and persist across time.
Module 2 addresses the questions of how we can study culture and how our cultures come to shape the ways that we think. Chapter 4 reviews how psychologists use various methods to investigate how culture relates to our psychology.
Chapter 5 of the textbook describes how people acquire cultural meanings as they develop, and Chapter 6 discusses how culture is implicated in people's self-concepts.
Module 3 covers material from two distinct topics. First, Chapter 7 explores how people navigate between more than one cultural world, particularly with respect to the question of acculturation. Second, Chapters 8 and 10 consider how culture influences what we want and feel. Chapter 8 investigates why people are motivated to achieve the things that they are, and Chapter 10 describes the role of culture in people's emotions around the world.
Module 4 addresses how our cultures influence how we think, relate to others, and what we value. Chapter 9 describes how culture shapes the ways that people perceive and understand their worlds. Chapter 11 investigates how cultural experiences influence the ways that humans form relationships and groups. Chapter 12 considers how our cultures shape our moral values,
Module 5 examines the role of culture in our health. Chapter 11 explores how people's cultural experiences can shape their physical biology and health. Chapter 12 examines the role of culture in mental illness.
Evaluation
Each module has either an assignment or a chat topic (sometimes both) as well as a short multiple choice quiz. You will be graded on each of the assignments, chats, and quizzes. At the end of the term there will be a final exam which will consist of multiple choice items. This will be worth half of your course grade.
The mark distribution for Psychology 307 is as follows:
| | |
| --- | --- |
| Assignment Marks: | |
| Assignment 1 (Module 1:Culture Change) | 9 |
| Assignment 2 (Module 2: Family Dinner) | 9 |
| Assignment 3 (Module 4: Rod & Frame) | 9 |
| Quizzes: | |
| Module 1 | 5 |
| Module 2 | 5 |
| Module 3 | 5 |
| Module 4 | 5 |
| Module 5 | 5 |
| Discussion Forum Contributions: | |
| Module 1 | 2 |
| Module 2 | 2 |
| Module 3 | 2 |
| Module 5 | 2 |
| Final Examination | |
| Total | 100 |
Textbooks
Cultural Psychology, 4th ed.
Heine, S.J.
Paperback, WW Norton & Company. ISBN: 9780393644692